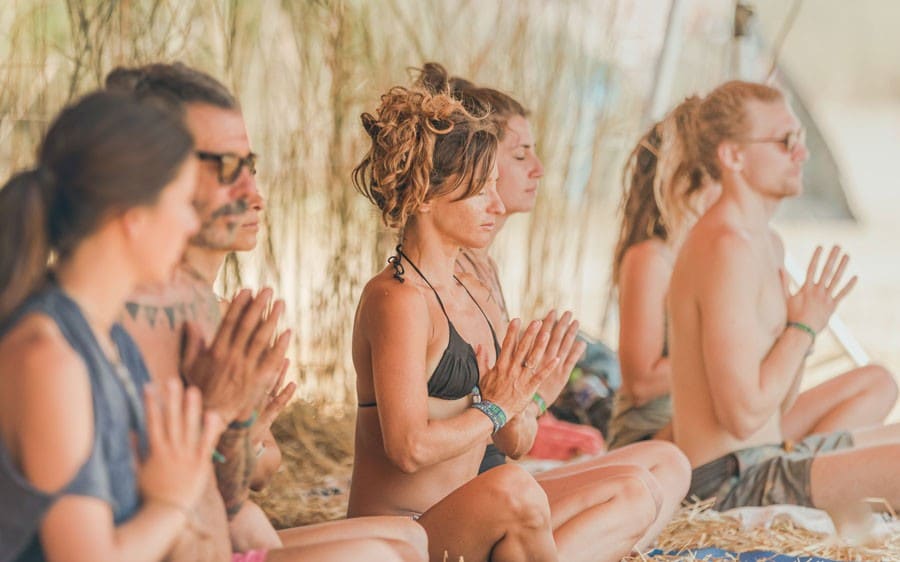 A new stage for Free Earth Festival! Introducing a new kind of depth to the Free Earth experience! A Journey to inner self! A new upgrade for the next editions. After the great success of last year's Healing and Awareness Areas, we transform those into a proper stage, the OM STAGE!
We care for the tribe. Every year one of our callings is to meet each other and celebrate exactly that, with dance, art, music, ecology, and love! We should help each other grow and bloom on this planet. Together we create a new era, a new way of life. The free earth vision, needs the tribe connected, strong, healthy, with open hearts and full awareness.
We introduce the OM stage for these reasons and with an extended program is ready to take a very special place in the heart of our Festival. Expected to grow every year and set under the shade of a huge stretch tent, next to golden sand and the crystal waters of the Aegean Sea. OM Stage will present a variety of workshops, seminars, lectures, ceremonies, and sacred psychedelic sounds in front of the sea!
Also at OM stage, for the second time at Free Earth, Tripoteca – the only International Psychedelic Film & Art Festival – will bend your mind and grow your soul with a dish of the world's finest and most diverse psychedelic short films & music videos. Join the Free Earth Cinema by the beach!
An intimate opportunity to practice and play with a range of esoteric activities.
A magical five-day retreat, hosted proudly by Eutopia Project & Kostas Georgiou.
The Free Earth – Tripoteca Cinema & Tripoteca is hosted by visual artist Adistu.
This is the time for the great personal and Collective ritual, to create a pulse of blissful psychedelic trance energy, the seed that sprouted the Dream of a Free Earth.
Join us, in this profound psychedelic journey!
CONFIRMED HEALERS SO FAR:
Workshops
Konstantinos Georgiou - Gong Soul Bath
Nik Tourbis - Djempe Rhythms
Anaïs Papastaikoudi - Hatha Yoga
Prem Khalid - Dervish meditation
Jonathan Huliaros - Callisthenic
Chariton Papakonstantinou -Om chanting
Stephan Rousseau - Ikaros healing songs & Amazonian medicine
Emmanuel Mallaroni - Peruvian medicine
Miranda Korovila - Drama game's
Myrto Peridou - Chakra Yoga
Christina Outopoulou - Laughing Yoga
George Grammenos - Yang Yoga
Basma Kamal - Heart dance Yoga flow
Lectures
Sheila Darmos - Permaculture & Food forests
Stephan Rousseau - Psychedelics substances & plant healing
Mike Akida - Codex Alimentarius
Panos Chaloftis - The Vegan lifestyle
Are You Ready For
5 days non-stop
Beach party?