Free Earth Festival is being organized by a group of companies with more than 25 years of experience in the Music Industry.
We have vast experience in organizing Festivals, Theatrical Shows, Concert Tours, and Exhibitions all over the world. 
Our starting point in organizing Festivals was Samothraki Dance Festival 2001-2003, which is considered to be the Daddy of all Trance Festivals and we continued with countless productions for the last two decades.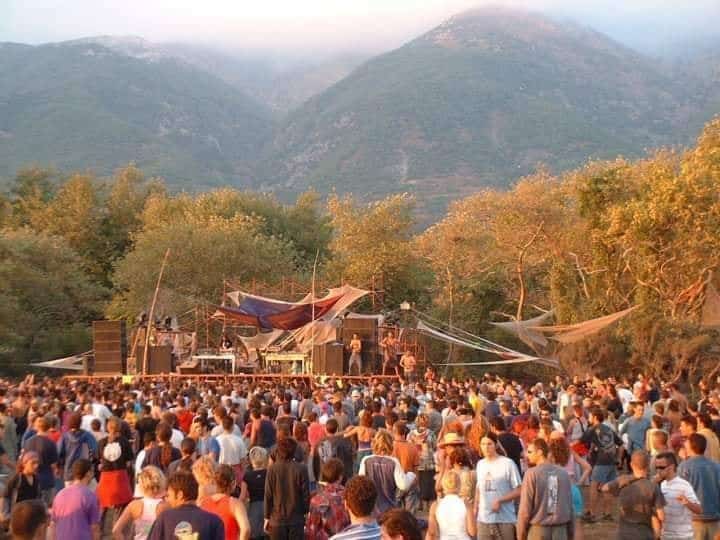 Our Group's Previous Productions
Festivals (Worldwide): Samothraki Dance Festival (GR), Summer Love Europe Festival (GR), Tsunami Aid Event (GR), Sol Festival (SP), Glade Festival (UK), WOMAD Festival (GR), 11th International Biennale Athens (GR), Hellenic Festival of Athens (GR), MESO Festival – World Day of Music (GR), Eco Music Festival – World day of Ecology (GR), Ozora Festival (HU), Vuuv Festival (GER), Legalise It Festival (GR), Hilltop Festival (Goa/IN), Freedom Festival (PT), Metsa Festival (FI), Tree Of Life Festival (TR), Transylvania Calling (RO), Transahara Festival (MOR), Lost Theory Festival (CO), Piraeus Festival (GR), Vortex Open Source (SA), Celebra Brasil (BR), Russian Xmas Festival (Goa/IN), Tribes Gathering (BG), Twilight Zone Festival (GR), Paradise Festival (AU), Ardas Festival (GR), Cosmo Festival (UK), Athens Olympic Games 2004 (GR), Athens Municipality Concerts, Opening & Closing Ceremonies and Free Earth Festival (GR).

Electronica Concerts (Greece): Vangelis, Radiohead, Pet Shop Boys, Transglobal Underground, Goldie, Orbital, Asian Dub Foundation, Zion Train, Juno Reactor, Ozric Tentacles, Loop Guru, Youth, OTT, The Egg, Jairamji, Younger Brother, Pathaan, Shpongle, 808 State, Alex Paterson, Abaton, Michelle Adamson, Palyria, Red Seal, Weird Conclusion, Mix Master Morris, Afro Celt Sound System, Depeche Mode, Prodigy, Chemical Brothers and Philip Glass

Shows (Greece): Shaolin Monks, Momix, Stomp, Tiger Lillies.

Free Earth Festival was conceived in 2013 and since then we have completed five editions evolving and transforming year by year. Back in 2016 to 2019, we established our cooperation with the Danish Leading Label Parvati Records, by hosting their own Parvati Stage at Free Earth Festival with great success. From 2023, Parvati Records hosting all our nights at our Enlightenment Stage, and Mystic Sound Records hosting our Oxygen Stage.

We aim to bring back the Good Vibes & Consciousness to the Outdoor Festival Scene!
Visionaries, Artists, Directors, Musicians, Event Coordinators, Managers, Designers, Promoters, Technicians, Craftsmen, and Volunteers are all part of an integrated team, introducing a sustainable paradigm. Organizers and crews from different festivals, a perfect blend of international and Greek crews, with creativity, happiness, and respect, creating our Journey!
Dreaming of a complete, comfortable, functional, and safe event that gives hope for a Sustainable World!
This is not a festival, it's an unmissable, transformational, and unforgettable experience!
A family gathering about Music, Art, Ecology, and Peace, at an amazing beach, and camping location at Asprovalta, Greece! A massive production with 2 music stages, 3 cultural areas, a kids' area, exclusive decorations, blasting sound systems, mind-blowing visuals, world-class artists… and a global message!
"Coexistence in unity and balance with nature and other living forms is a conscious bequest for an even more mystical journey into music & culture".
We are looking forward to creating a Green Festival, with less trash, more respect for nature, and a more balanced symbiosis. Many new policies will be implemented with much more efficiency toward that goal and new strategies will be announced and established thru our Sustainability Project. Committed throughout this Project to reducing our environmental impact and improving our environmental standards, we will always pursue a minimum ecological footprint outcome.
Dreaming an event that improves its content by the year without increasing its numbers and at the same time keeps its original family vibe and Ethos intact! Our full potential can be reached shortly and we are very happy about that!
Our scene needs more conscious choices and sociologies! Our organization will keep improving its crew, infrastructure, and services will keep inviting key role people of our scene and the production world, and will keep investing in the Festival to reach the top production level!
A magical 5 days Retreat! With the representation of the most innovative Audio – Visual technologies by the cream of International and Greek Artists and Healers, we will keep offering the best possible journey to our inner self and consciousness.
At this point, we would like to note that without your precious help with our pre-sales and your total support, none of this would be possible! You empower us with hope and inspire us to continue our Vision! Our future doesn't belong to Capitalism, but to Independent special unique people, it belongs to you!
Big Love, Free Earth Team.
Are You Ready For
5 days non-stop
Beach party?